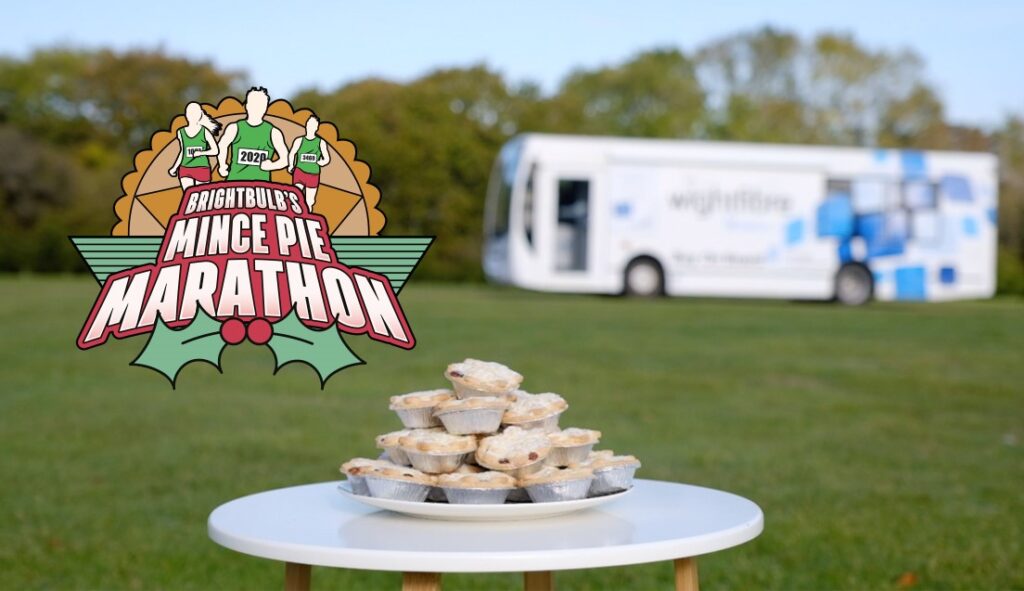 BRIGHTBULB'S MINCE PIE MARATHON RETURNS
At the end of 2019 mince pie fever hit businesses on the Island with Brightbulb Design's Mince Pie Marathon. The Island design studio sold and delivered over 3000 mince pies, helping to raise a total of £3100 for the Wight Brainy Bunch charity. A charity supporting families affected by brain tumours on the Isle of Wight.
Brightbulb's Mince Pie Marathon is back for another year, and this time it's going to be bigger and better than ever before. This year the event has been opened to both businesses and the general public. Brightbulb have also drafted in the help of the Island's fastest broadband provider, WightFibre, the events' headline sponsor and the Island's favourite radio station, Isle of Wight Radio who will help Brightbulb deliver the mince pies across the Island.
CEO of WightFibre, John Irvine added, "We are really looking forward to being involved in the Mince Pie Marathon this year. It's an innovative charity initiative that makes people happy. What's not to like. Last year we bought mince pies. This year we can help Brightbulb deliver even more cheer across the Island."
Matt Jeffery of Brightbulb Design said, "It's been a tough since last year's Mince Pie Marathon because of the Covid pandemic. But last year there was so much excitement, fun and cheer from what we achieved that we thought, let's do it again and if we make a few people smile, then we can deem it a success."
Brightbulb's Head of Happiness, Fiona Jeffery added, "We felt we should continue to support the Wight Brainy Bunch as we have been unable to organise events that would have normally benefitted our charity of the year throughout 2020. So, this will give us a chance to support them with a boost of donations before Christmas"
To take part simply log on to www.mincepiemarathon.co.uk and choose how many boxes of mince pies you want delivered and the team will take care of the rest. Each mince pie costs £1 and all the money goes to the charity. All mince pies will be delivered following safe, government related Covid guidelines.