In February, WightFibre announced their support for local accessibility charity, Isle Access. Isle Access work tirelessly to promote accessibility across the Isle of Wight, both for tourists and residents.
"Our vision is that residents and visitors alike can enjoy as much of the Isle of Wight as possible, our mission is to make the Island more accessible and inclusive for people of all ages and our aim is to support disabled people by removing barriers to access, enabling disabled people to enjoy a better quality of life and achieve new skills and experiences."

Isle Access
One particular activity which has proved very successful is running an adapted cycling event for everyone to come along and enjoy. With all types of specialised adapted bicycles, this is an expensive project to run and maintain, which is where WightFibre come in – to provide financial assistance through their latest sponsorship.
The reviews from previous participants show just how important this experience is to riders and the time they get to spend on an adapted bicycle can have such an impact on their lives. Here's an example from Matthew's mum (parent of a recent participant):
As parents of special needs children, even into adulthood, you need to step in and support them with most, if not all, activities. To be able to stand back and watch the two of them in action was an immensely powerful and emotional experience. It was more than just riding a bike; it was teamwork, independence and fun!

Matthew's mum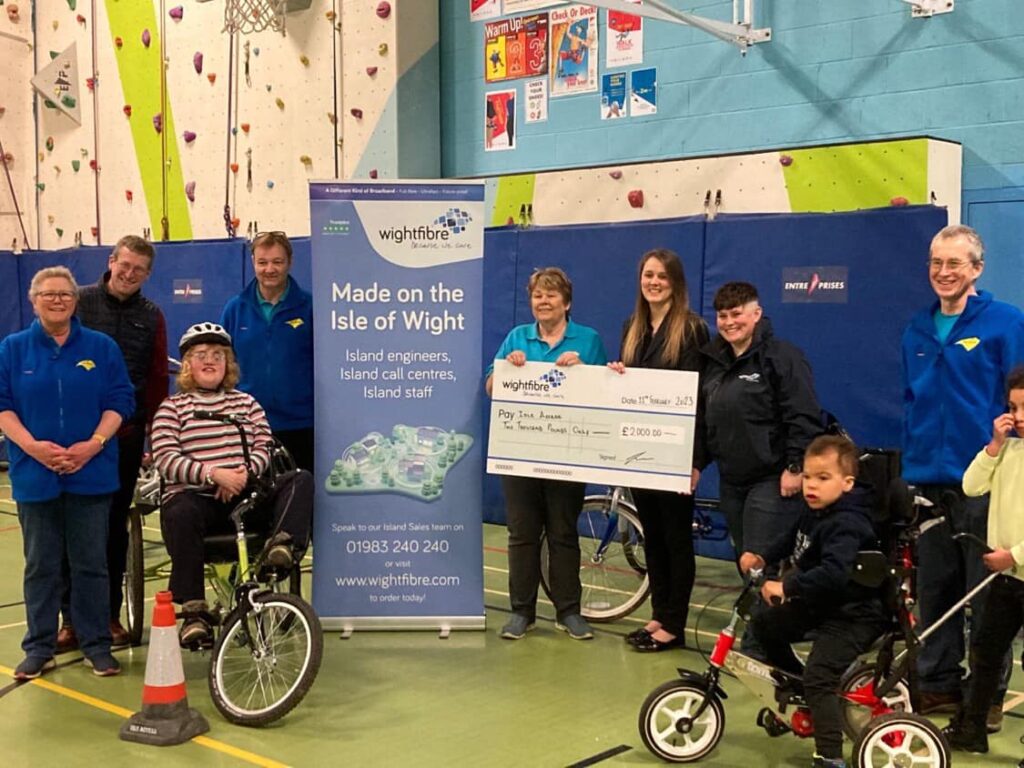 WightFibre have presented Isle Access with a cheque for £2,000 which will be used to help with maintenance of the bicycles, transportation and other logistical costs.
"We are delighted that Wightfibre are helping us to deliver our cycling sessions to the community. Their support helps with the unseen costs of delivering the sessions and allows the cycling to continue for another year. We are extremely grateful to everyone at Wightfibre."

Jan Brookes, Isle Access CEO
If you're interested in having a go on the adapted bikes, you can check out when they are next holding an event here: isleaccess.co.uk/adapted-cycling and you can book a place or make other enquiries by emailing this address.
---
By being a WightFibre customer, you a part of a community that loves to give back. Check out our latest deals here.